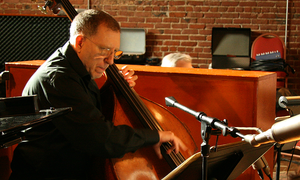 Balance of Opposites
Passion and humor, excitement and romantic tenderness, energy and relaxation, forward moving propulsion and thoughtful contemplation, dramatic variations in dynamics, organized ensembles and spontaneous solo passages….these are the elements we seek to provide in balanced proportion and organized form in order to communicate effectively in the language of jazz.
Creating Coherent Beauty
This band has been formed in order to maintain and build on the tradition of the best American music - a tradition exemplified by the masterpieces of Armstrong, Ellington, Charlie Parker, Miles Davis, The Modern Jazz Quartet, Gil Evans and Bill Evans, among others.
Bill Evans has made the most profound impression on my musical life. The principles that make Bill's music function as it does are expanded and amplified into a repertoire for this orchestra.
Our Year Of Living Vicariously (Covid Lockdown Video)
"Last night was one of those occasions on which an audience's concentration and approval is palpable well beyond its applause. We were feeling what the musicians felt in the profundity, beauty and joy of Evans' music."
Doug Ramsey, artsJournalBlogs
"Israels' charts are the heart of his band's personality. It is definitely not a band that clubs you into submission. It is mellow, subtle, highly melodic, with lines that move in wondrous ways."
Ira Gitler, DownBeat